Ethereum is ripping, now well above $4,000 per ETH and in full price discovery mode. But with no obvious resistance levels, how can anyone prepare for when the trending altcoin runs out of steam and eventually reverses?
Technical analysis indicators, as well as fundamental tools are two possibilities, however, simple mathematics could also play an important factor. Here's how, along with a look at how the same math stopped the Bitcoin bull train in its tracks.
Crypto Market Cycles, Expectations, And Wild Analyst Targets
As much as analysts and traders can get a good read on an asset and its value, or even how price action could play out, there's truly no predicting every aspect of cryptocurrency cycles.
Years ago before Bitcoin became a household name, analyst had been predicting $2,0000-3,000 per BTC. Yet at the height of hype, it reached nearly $20,000 per coin.
Related Reading | Lucky Number 7: Ethereum Breaks Total Crypto Monthly Record
A lot more people know what Bitcoin is now, and it enjoys a lot more brand visibility, recognition, and hype than it ever had before. Expectations for it now run to well over $300,000 per coin, yet the once trending cryptocurrency has been stuck below $60,000 for weeks now after repeated rejections.
The struggle has been largely due to capital flowing into another hotly hyped crypto asset instead: Ethereum.
Ethereum versus Bitcoin Fibonacci extensions compared | Source: ETHUSD on TradingView.com
Will Ethereum Take Pause Where Bitcoin Took A Breather?
Ethereum has not only outperformed Bitcoin in 2021, it has done so since the moment is entered the cryptocurrency market.
Like Bitcoin, Ethereum is well above its former all-time high, but hasn't yet reached any sort of stopping point. However, that could be very close, if Ether follows the path cleared by the first ever cryptocurrency.
It was clear skies for Bitcoin until only recently once it surpassed its former peak, and it kept right on roaring not just to double its former high, but it has now tripled it and then some.
Related Reading | Creator Of Flawless Top Indicator Says Bitcoin Isn't Done, Despite Signal
To be exact, the high reached the 3.618 Fibonacci extension – which also could end up acting as a logical place for Ethereum to pause also.
Fibonacci extensions and retracements levels are ratios based on the Fibonacci sequence – a series of numbers where the sum of the two previous numbers is the following number in the sequence.
ETHUSD just tapped the 3 Fib extension, and is headed to the 3.272 next – the first place where Bitcoin began to struggle with resistance.
The 3.618 extension still remains the local peak for BTC – is this also where the top ranked altcoin will begin to run out of steam?
Featured image from iStockPhoto, Charts from TradingView.com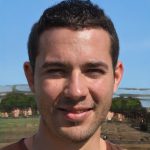 I'm known as one of the best Crypto Authors in the market. My work has been featured in numerous publications, including The Wall Street Journal, Forbes, and Barron's. I'm a regular contributor to CoinDesk and have been a guest on CNBC, Fox Business, and Bloomberg TV.